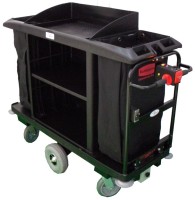 Warequip are proud to announce the release of the new Powered 2 Go Maid's Cart.
The 5 star powered maids cart is based on the popular Rubbermaid 6189 maids' cart.
Features include commercial grade moulded construction which makes cleaning quick and easy and it's moulded in colour for a long lasting aesthetic.
The unit is fitted with Warequip's Powered 2 GO Turnmates drive system with central drive wheels to make manoeuvrability and operation simple.
The unit comes standard with vinyl bags, bumpers and has ample storage space.
Safety features include emergency stop and variable speed control.
Optional accessories are available to enhance functionality and productivity including, tool organiser, linen bag, locking door and hood.
Applications range from Hotels, Motels, Apartment Complex's, Mining Camps and Aged Care facilities.
Watch the powered maids cart in action.
For full specification on the powered maids cart click here.
Dealers are available Australia wide contact Warequip to arrange a Free Demo 1800 337 711 or visit www.warequip.com.au