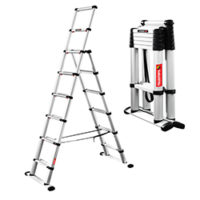 Did you know that more accidents happen at home that anywhere else? This is an astonishing fact and these accidents generally involve ladders at home.
Telesteps the founder and manufactures of the Telesteps Telescopic Ladders were founded in 1996. Since this time the company's main goal is to be the most inspiring and innovative brand in the industry.
Warequip Solutions a materials handling company suppling the World's best products to the Australian market since 1976, was proud to become a Telesteps distributor in 2018.
What makes Telesteps Telescopic ladders stand out from its competitions? Safety. The patent design for the auto step, which allows the ladder to close by pressing two buttons, rather than having to close each individual section by hand.
The Telesteps Telescopic ladder is the only Telescopic ladder of its type that meets Australian standards (AS/NZS 1892.1:1996)
Next to safety the Telestep Telescopic Ladder has an abundance of features, when folded the ladder is very compact (70 to 80cm) and can extend to 4m.
The ladders have triangular design for increased stability and strength, friction profiles on the steps, dirt channels and wide safety treads minimize slipping.
There are 3 models stocked by Warequip in Australia; the Prime Line – a standard extension type, The Combi – a combination A frame style and the Solid Line – a work platform ladder.
No matter what the work, Telesteps have the right latter for the job and serve DIY and professional users.
Warequip and Telesteps alike are companies constantly challenging themselves and pride themselves on innovation and design.
To find out more about the Telestep Telescopic Ladder revolution visit www.WorkSafeTools.com.au.