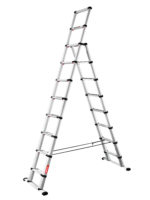 Warequip Solutions is proud to announce the launch of their latest online store www.WorkSafeTools.com.au, which showcases their latest range of Telescopic Ladders and Plano Europe Technics range of tool storage and tool safety.
They are pleased to release the World famous Telesteps Telescopic Ladder Range in Australia with the first shipment due to arrive late January 2018. This top quality, unique Swedish design range of Telescopic Ladders will appeal to all professionals looking for quality.
The Telescopic Ladders are simple and can easily be extended with one drop and its just as quick to secure the ladder. The telescopic function means the ladders are ideal in all spaces included small and confined. They can be adapted to the desired length for the task you are going to carry out.
The simplicity and flexibility has by no means compromised the safety, with the Telescopic range meeting Australian Standards (AS / NZ 1892). The ladders and platforms are made of durable aluminium with hard-wearing glass fibre reinforced plastic fittings.
There are 3 styles in the Telesteps range in Australia. View them now at www.WorkSafeTools.com.au.
Complimenting this range is the Plano products. They includes tool stops, tool boxes, tool holders, tool bags, accessory pouches and much more.
The Plano Technics Range is Innovation at work. The technological evolution of this Plano line of professional tool kits is innovative in their design as well as functional and comfortable.
The versatility, unique style and superior quality of this range allows it to be used in a variety of applications and environment's including building, warehousing, film industry and DIY.
Browse their latest range now in their newest online store at www.WorkSafeTools.com.au.