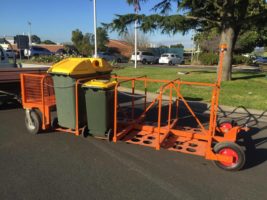 Here at Warequip we pride ourselves on our innovation and our ability to customise any piece of equipment to fit our clients' purpose.
One of our most popular items has been our range of Sulo Bin Trailers. These trailers are available in either flat deck or tilt deck side loading, both are compatible with all 120 litre and 240 litre Sulo bins.
The flat deck setup can accommodate the 120 and 240 litre bins as well as larger 660 litre wheeled bins and even large office furniture. While the tilt deck option features a hinged, tilted floor to eliminate the need to lift a heavy, full bin and allows for easy, no lift, no ramp loading and unloading of wheeled bins.
Ideal for large sporting complex's, healthcare environments or caravan/holiday parks, these trailers are a perfect solution for all your waste and refuse disposal needs.
Our Sulo bin trailers are available in 2,3,4,6 and 8 bin options and are ready for road registration. We also have smaller pedestrian trolleys, (manual push versions) available as well.
We can also fit a range of specialty accessories to these trailers such as strobe light with independent battery pack which allows the strobe to function while disconnected from a vehicle, mesh floor for full bin liners, and indicators if you wish to register as a light trailer.
We have a range of specialty tow vehicles available from Polaris, Taylor Dunn and Yamaha Industrial Vehicles as well as a range of accessories to fit all trailers and vehicles and we can customise any of our trailers to fit your exact specification.
Contact us today to discuss your needs or arrange a site visit for evaluation by one of our fully trained staff learn this here now.