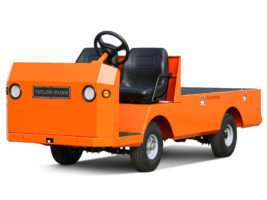 Warequip, the leading supplier of materials handling equipment in Australia and an importer of Taylor Dunn Battery Electric Vehicles are excited to announce the arrival of the new generation burden carrier. The Taylor Dunn Bigfoot.
The Taylor-Dunn Bigfoot has been designed and engineered to give the operator a better ergonomically designed seating area, which increases comfort and performance.
Ergonomic features include increased operator platform length, tilt steering wheel and adjustable bucket seats.
The Bigfoot is equipped with latest generation AC technology and is available with 36 or 48 volt power sources making it ideal for most applications.
Standard inclusions in the Taylor Dunn Bigfoot are LED headlights, non-skid texture coated floor, dual cup holders and recessed tie downs along each side.
There are a large range of optional extras available to have the vehicle customised to suit your requirements.
If you are using the vehicle outdoors make it an all-weather vehicle by adding customised steel or fibreglass cabin, windscreen, doors, and even sliding windows.
The Taylor Dunn Bigfoot can be customised to move people around by adding a second row of passenger seating increasing the capacity to four.
Ideal in maintenance applications as a standard unit, or add a ladder rack, deck canopy or roof to ensure tools are kept safe atorvastatin calcium 40 mg.
The new Taylor-Dunn Bigfoot available at Warequip is a burden carrier which offers the ultimate versatility in load capacity, vehicle configuration and performance.
With over fifty years' experience, Taylor-Dunn and Warequip are able to deliver the ultimate electric vehicle to suit your needs.
Please contact Warequip to see which Taylor Dunn suits your business.